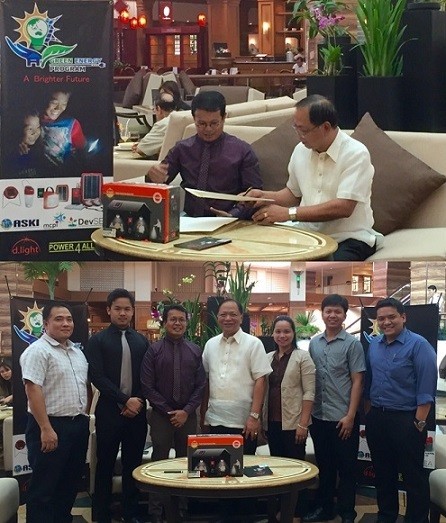 Held last April 11, 2016 Alalay Sa Kaunlaran, Incorporated (ASKI) Executive Director and a founding board member of Alliance of Philippine Partners in Enterprise Development (APPEND) Rolando Victoria and BEST BRANDS President Angelo Valenton signed a Memorandum of Agreement at the Century Park Hotel for the launching of ASKI's Green Energy Program (GEP).
It was witnessed by Executive Director of Microfinance Council of the Philippines Inc. (MCPI) Alan Sicat, Paul Edward Diamat Technology Energy Officer of ASKI, Alyn Rodiel of ASKI Multi-Purpose Cooperative, Teodoro Mallanao and Josell Valenton from BEST BRANDS.
GEP is a major initiative of ASKI aimed at empowering communities within rural areas to live better lives through access to sustainable energy. Lighting up rural communities through solar power will improve productivity, livelihood and education.
ASKI is a registered non-stock, non-profit organization committed to the promotion and development of micro and small-to-medium enterprises and the delivery of social services. It was created on October 1986 in the year of the EDSA People Power Revolution when social issues like poverty and unemployment were widely felt. A group of business leaders in Nueva Ecija, out of Christian zeal and compassion, joined hands to think of positive responses to issues and help deliver an economic turnaround through micro-enterprise.